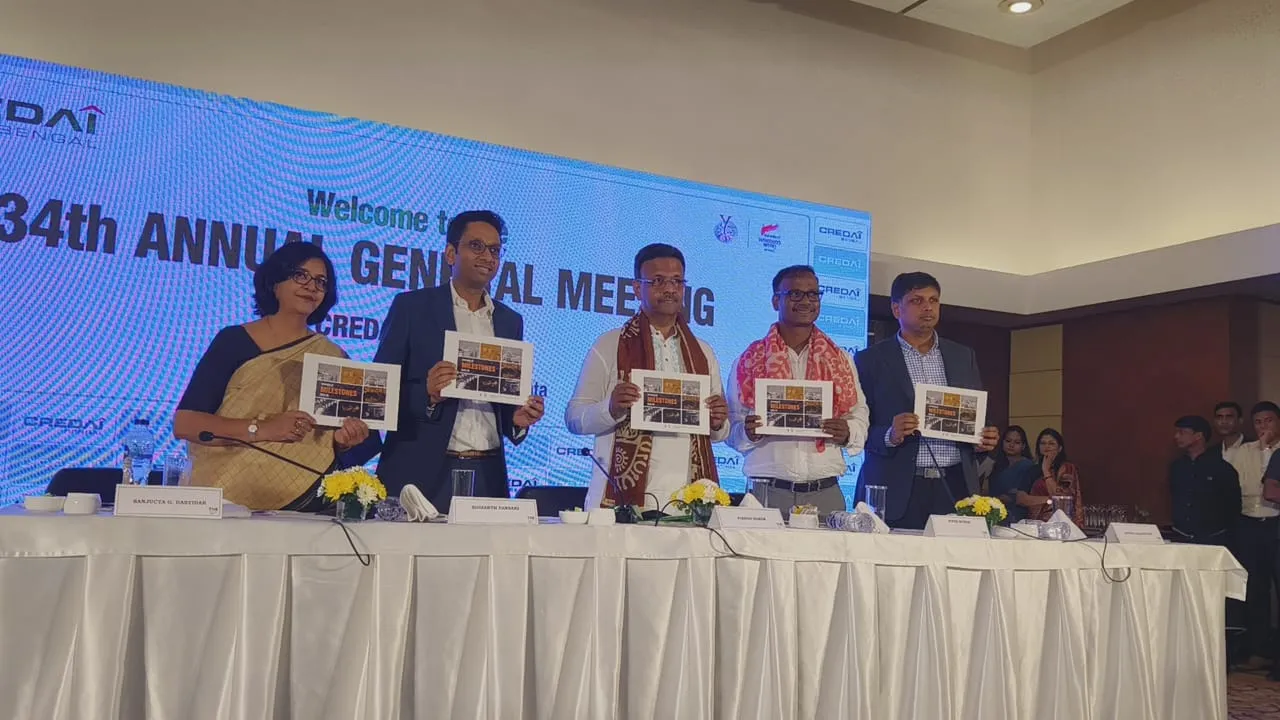 By a Staff Reporter: CREDAI Bengal, the apex association for real estate developers in Kolkata and adjoining areas, organised its 34th Annual General Meeting (AGM) on 18th August 2023 at The Park, Kolkata.
Shri Firhad Hakim, Mayor of Kolkata Municipal Corporation and Hon'ble Minister, Urban Development& Municipal AffairsDept, (UD & MA), Government of West Bengal (GoWB) was Chief Guest. Shri Binod Kumar, Municipal Commissioner, Kolkata Municipal Corporation (KMC) was present on the occasion as Special Guest.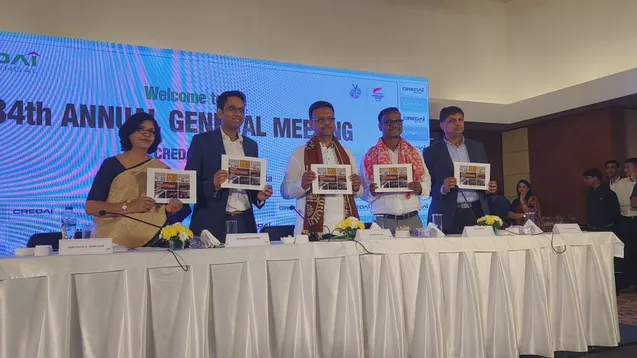 There were two significant announcements made at the AGM. CREDAI Bengal announced that it was going to donate 5 lakh saplings to KMC over the next three years for planting throughout Kolkata. It was going to be part of the 'Kalpavriksha' Programme of CREDAI Bengal, a CSR initiative it has been implementing over the past three years for greening parts of Kolkata and West Bengal.
The second announcement was the adoption of 10 city parks by CREDAI Bengal members. Under this arrangement, the parks would be operated, maintained and beautified by CREDAI Bengal and kept open for the general public between 6 AM to 8 PM. Towards this, MoU-s were exchanged between representatives of Kolkata Municipal Corporation(KMC) and CREDAI Bengal.
The Hon'ble Mayor appreciated the constant support that CREDAI Bengal demonstrates towards various civic projects helmed by KMC which benefits citizens.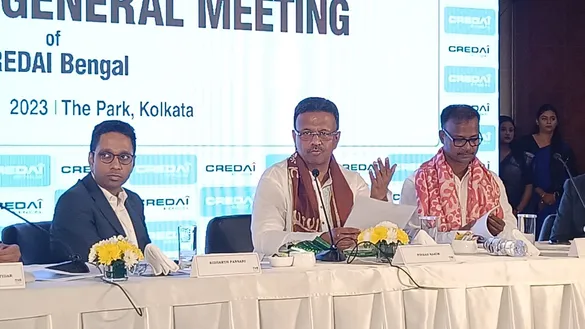 Mr. SidharthPansari, President, CREDAI Bengal said, "It has always been a parallel passion of CREDAI Bengal, besides mortar and bricks, to pursue programmes that are of benefit to Kolkatans. We have always aligned with the city corporation's vision to sustain efforts to maintain the city's green patches and thus our members have agreed to adopt 10 parks with many more in the offing. Equally important to CREDAI Bengal's vision is to amplify its green cover and thus over the last four years our initiative 'Project Kalpavriksha' has planted more than 50,000 trees in Kolkata holding hands with the civic body. Our present commitment is the most ambitious donation of trees that we have ever undertaken and we are very excited about this CSR initiative"
The office bearers of CREDAI Bengal for 2023-24 remain the same with incumbents Mr SidharthPansaricontinuing as President and Mr ApurvaSalarpuria and Mr Ashok Saraf continuing to serve as Vice Presidents as the tenure of this current Board is from 2022 to 2024.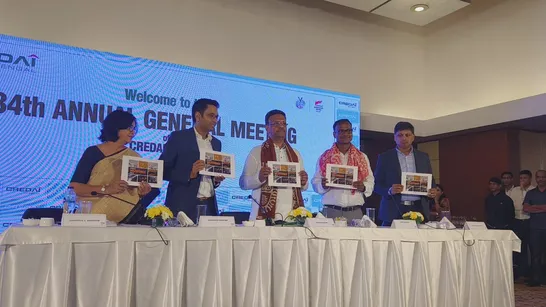 Mr. Pansari acknowledged the voluntary service extended by all members of the Board towards the various activities and programmes of CREDAI Bengal and thanked all members and the association's Youth Wing for their active involvement in CREDAI Bengal.
On the occasion of the 34th AGM, the new Managing & Executive Committee 2023-24 was announced and the Annual Booklet 'Milestones' commemorating the AGM, was released by the Hon'ble Mayor of Kolkata, Municipal Commissioner, office bearers and past presidents of CREDAI Bengal.
About CREDAI Bengal :
CREDAI Bengal is the apex body for real estate developers in Kolkata, affiliated to the Confederation of Real Estate Developers' Associations of India (CREDAI) which is the nation-wide body of pan-India real estate developers, comprising of 13000+ real estate developers as members, with a presence in 21 states and 230 cities. CREDAI Bengal has 200+ members, symbolizing the organised representation of real estate's major stakeholders based in Kolkata and its peripheries, advocating strict adherence to WBRERA Rules, commitment to consumer satisfaction with regard to handover of project etc., promoting transparency in business and inducting professionalism in the sector.
Our 200+ members are engaged in the development of residential housing projects, commercial buildings, malls, IT/ITeS complexes, warehouses, hotels, hospitals, logistics hubs and urban social infrastructure projects.
We collaborate with Government Departments and agencies to pursue issues related to the state's real estate development and also promote West Bengal as a significant investment destination. We work together with other CREDAI chapters to exchange best practices and help grow the real estate sector in Eastern India.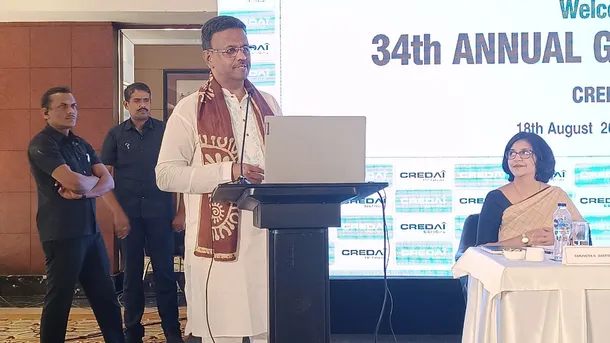 Our collaboration with the state government on several civic projects in Kolkata like planting lakhs of saplings on city medians and pavements, adoption of city parks, Nimtolla crematorium renovation etc aim at relationship building between the state government and the industry to create a positive and harmonious atmosphere for sectoral growth and city welfare aligning with the government's vision for economic excellence of West Bengal and making Kolkata a world-class city.
We have two active committees, the CREDAI Bengal Youth Wing for the under-40 members who bring in fresh ideas in implementation of various CSR and learning programmes and the CREDAI Bengal Women's Wing who work on making women more active in real estate and increasing their representation in the business.
CREDAI Bengal regularly organises events and exhibitions to promote greater connect  between industry and consumer as well as to exhibit real estate projects of members before the public. Knowledge sharing events for the benefit of developers are regularly hosted alongwith awards programmes to fete members for the projects they are building and real estate summits to bring more cohesion within the industry.
Currently CREDAI Bengal is led by Mr SidharthPansari, President, and Mr ApurvaSalarpuria and Mr Ashok Saraf, both Vice Presidents for the term 2022-2024.