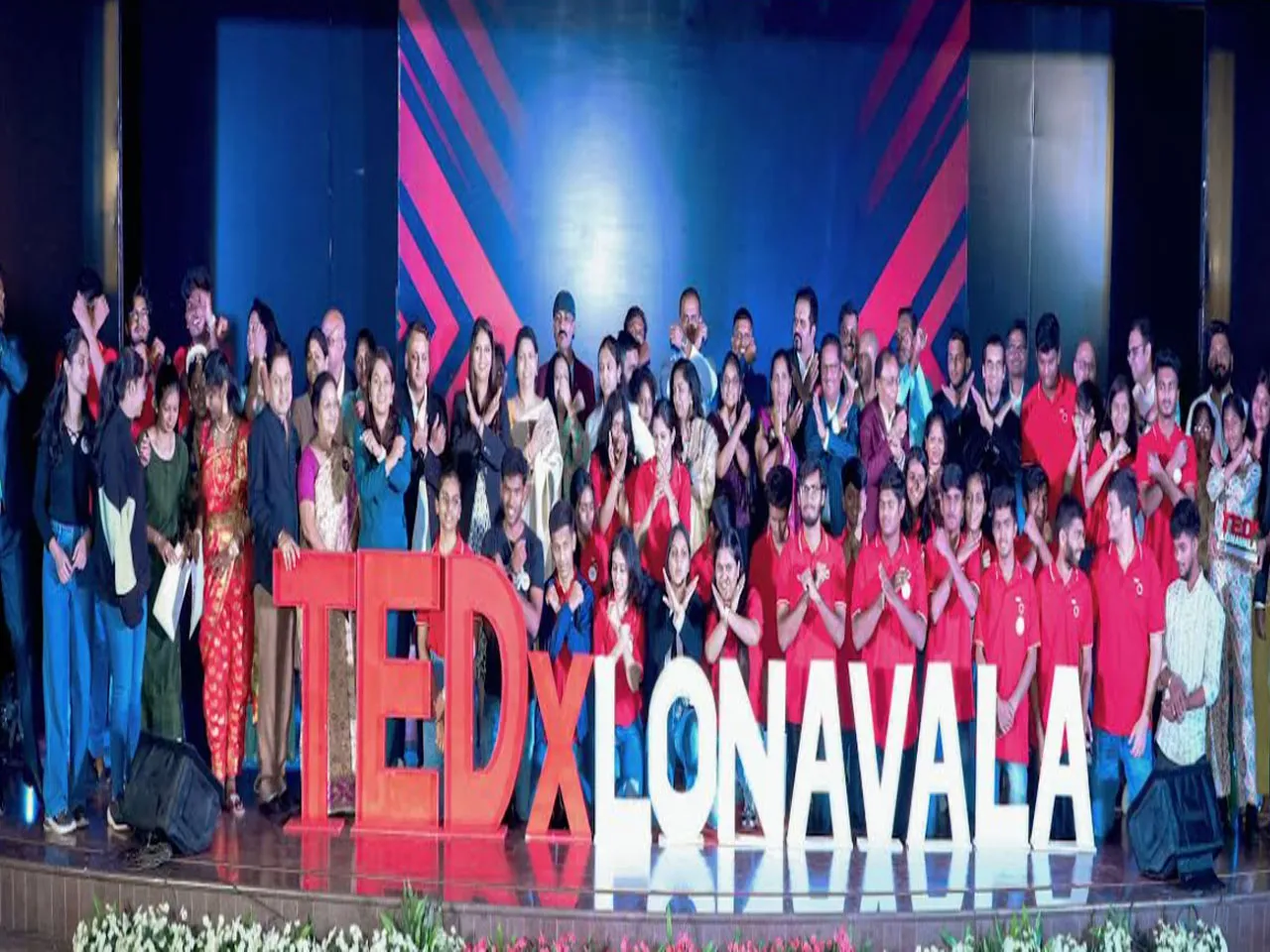 Pune, India:
The stage was set, and the audience was ready for a journey of inspiration and thought-provoking ideas. TEDxLonavala, an event dedicated to exploring the depths of human creativity and imagination, successfully took place at the D.Y. Patil Educational Complex in Akurdi, Pune. The event's theme this year, "Think Beyond," deeply resonated with the packed auditorium, leaving a lasting impression on their hearts and minds.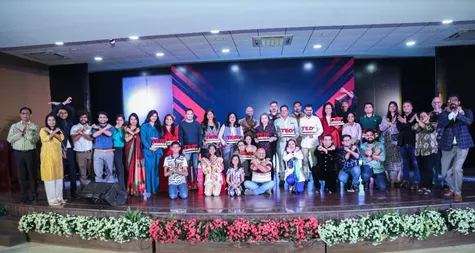 The event was graced by a distinguished lineup of guests, including the chief guest, Mrs. Smita Jayakar, an acclaimed Indian Bollywood actress. Dr. Bharat Patil, Chairman of DYPIMS; Mrs. Shweta Patil, Director of DYPIMS; and Dr. Tejas Patil, Chairman of D Y Patil Educational Complex, were the guests of honour, further adding to the grandeur of the occasion. Moreover, the VIP guests included Mrs. Bharathi Gaur, Mrs. Manju Gaur, Mrs. Supriya Patil, and Mrs. Himangi Rao, among others, who graced this occasion with their valuable presence.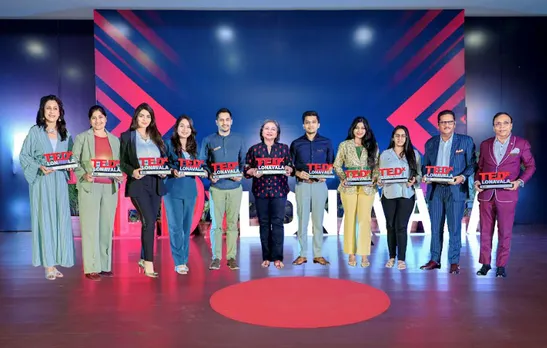 Mrs. Smita Jayakar, a renowned Indian Bollywood actress, captivated the crowd with her experiences and emphasised the importance of giving back to the community, reminding us of the significance of kindness.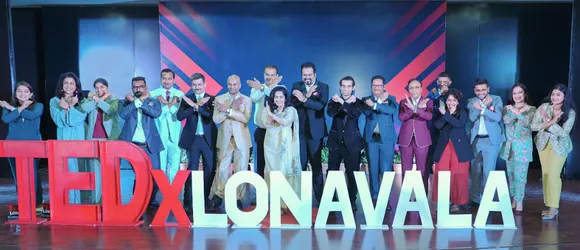 Shubham Gupta, an IAS officer and CEO of Dhule District, left the audience in awe as he recounted his remarkable journey from a shopkeeper to a government officer, exemplifying the power of determination and hard work.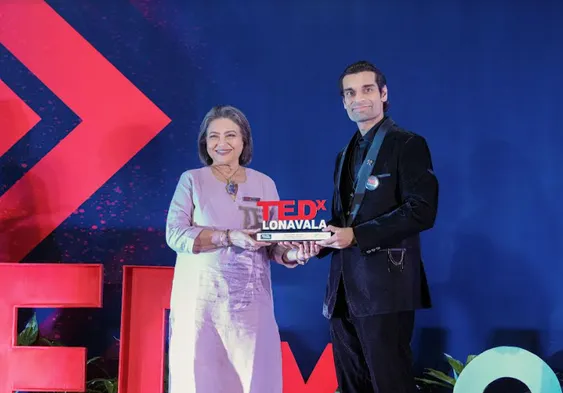 Anveshi Jain, an Indian actress, shared her personal life story, offering a glimpse into her path to success and inspiring others to pursue their dreams.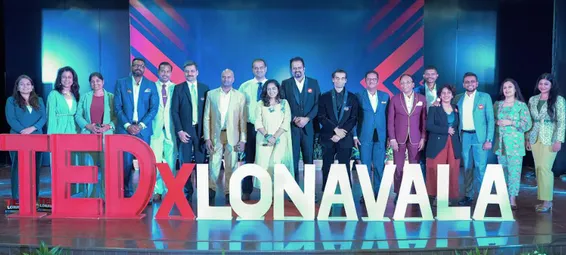 Amar Bahada, CEO of Meridian Overseas Education, shared a gripping account of his life, particularly his survival through three car accidents. His story was a testament to resilience and the strength to overcome life's challenges.
Beena Mathews, a dedicated educationist, spoke about the journey of self-acceptance through the eyes of an artist, encouraging self-love and self-expression.
Raghunandan Chowdrapu, a wealth management expert, offered valuable insights on managing and creating abundance, imparting financial wisdom to the audience.
Suman Rangabhashyam, a Financial Vision Enabler, provided practical guidance on financial planning, helping attendees secure their financial futures.
Aniruddha Bhagwat, a Brand Communication Expert, highlighted the significance of effective communication, demonstrating how it can shape our personal and professional lives.
Indu Sahoo delved into "The Future of AI," guiding the audience on how AI can assist without replacing our individuality and showcasing the limitless potential of technology.
Rambabu Dantu, a Real Estate investment specialist, discussed the journey from excuses to success and how self-belief can fuel entrepreneurship, motivating individuals to pursue their entrepreneurial dreams.
Deepti Hegde, an Intentional Living Maestro and Mrs. World International 2022 Finalist, encouraged self-discovery and empowerment, stressing that life is a choice, not a chance.
Rakshita Mehta, Founder of Cooks N Crafts, turned her passion into a profession, demonstrating the transformation that can occur when we follow our hearts.
Riddhi Chaddha, an AI Strategy Consultant, shed light on the transformative power of artificial intelligence, showcasing how technology can revolutionise the world as we know it.
Each speaker added a unique perspective and a fresh layer of inspiration to TEDxLonavala, leaving the audience with newfound knowledge and a renewed sense of purpose.
But TEDxLonavala was more than just a series of talks; it was a day filled with electrifying performances by college students, a rock band, dance, music, and even a fashion show, showcasing the multifaceted talents of the youth of D.Y. Patil College.
The event was masterfully hosted by two former TEDx speakers, Sushant Kumar, India's 1st Reboot Zindagi Mentor, and Aniruddha Pathak, India's 1st Business Mentor for parenting coaches. Their engaging presence added a dynamic touch to the event.
Behind the scenes, the charismatic storyteller, Dr. Siddharth Kishore Gaur, and his dedicated team, which included Ravi Nadar, Personal Brand Designer; Manikindan MS, Youngster Well-being Mentor; Sridhar M K, an experienced IT leader and a Certified Healer; and Dilshad Hussain, worked tirelessly to ensure the event's success. Their efforts were complemented by the Associate Partners: Simplify Success, Magnifiq, D Y Patil International University, D Y Patil Institute of Management Studies, Rotary Club of Pune, Bund Garden, and MSD Events.
Every great event needs a great visual story, and "The Sagar Ambohre" brilliantly captured the essence of TEDxLonavala. Yojkaj Events and Decor, the Event partner, played a crucial role in the event's aesthetics. EventGlint served as the ticketing partner, making registration and attendance a smooth experience. The Gifting Partners, Uni Seoul, a Korean lifestyle brand, and Hast Sanskriti Pvt Ltd, a premium Mithila saree designer company, added a touch of elegance to the event. DailyHunt, the Digital Media Partner, helped to spread the event's message far and wide.
The TEDx Lonavala event was not just about talks and ideas; it also had a heartwarming social cause behind it. A portion of the funds raised from the event will be given to the Rotary Polio Foundation. This donation will help in the fight against this life-threatening disease. The initiative is supported by the Rotary District 3131 Polio Team, led by Rtn. Mr. Mukesh Gupta.
TEDxLonavala was not just an event; it was a journey of connecting minds, sparking ideas, and encouraging everyone to think beyond the ordinary. It showcased the power of human potential and the collective effort of passionate individuals. The event was a testament to the spirit of innovation and creativity that thrives in the heart of India.
As we reflect on TEDxLonavala, we can't help but be inspired to think beyond, dream bigger, and act on our ideas. It was a day when the power of human imagination was on full display, leaving a lasting impact on all those who attended. This event, with its remarkable speakers, partners, and team members, truly brought the community together to explore new horizons and inspire change.