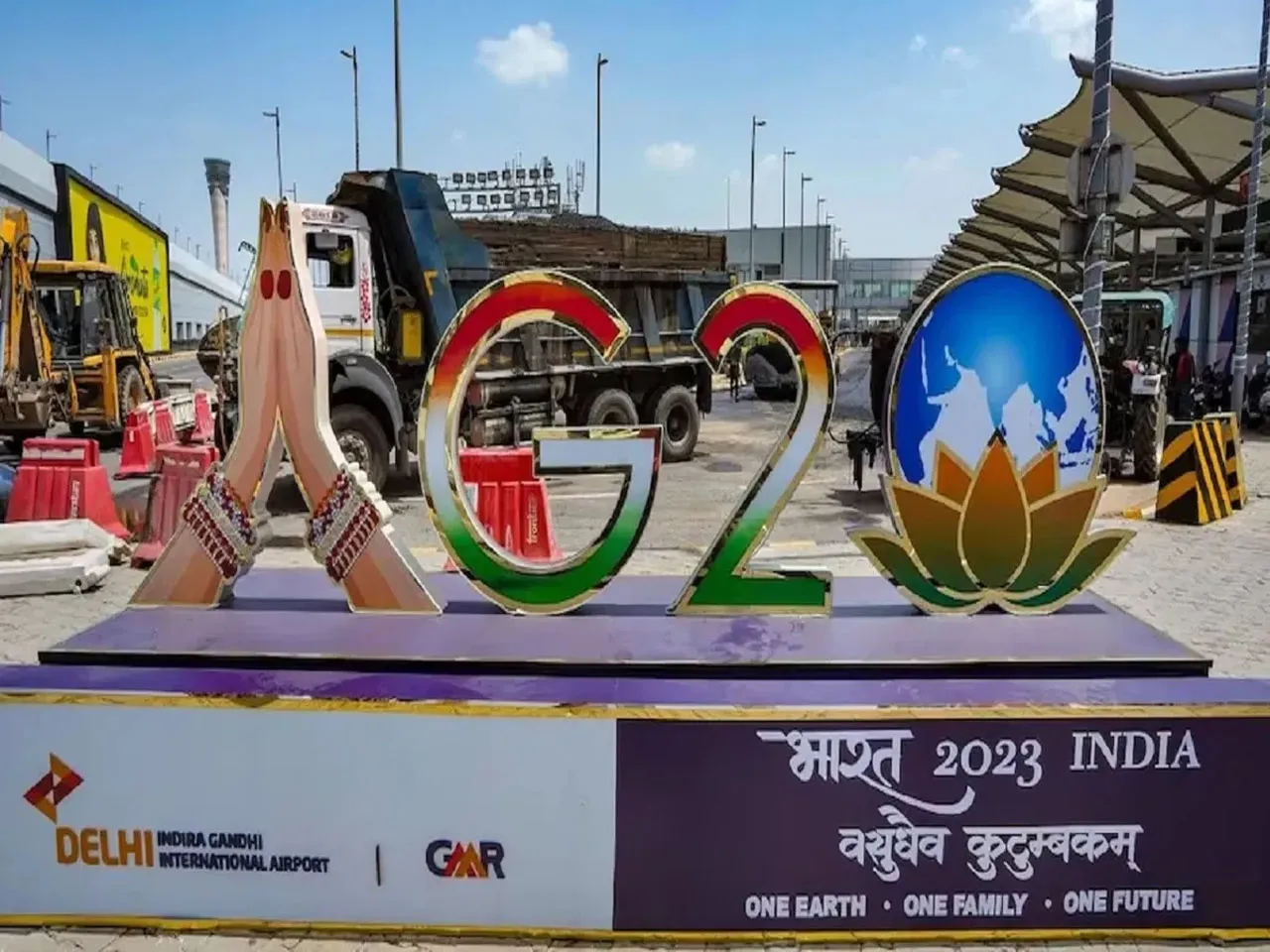 The much-watched G20 Leaders' Summit announced the New Delhi Leaders' Declaration on Saturday giving the world a preview into India's diplomatic skills to ensure multilateralism and international cooperation. The document  focussed extensively on reforming global financial institutions and debt structuring to make funds available for developing nations struggling to meet climate challenges, setting the tone for discussions in the upcoming COP28 to be held in the UAE.  Russia and Ukraine continued to remain a contentious issue, ensuring that for the first time ever  the group failed to release a communique following a leaders' summit.
With extreme weather events hitting hard this year, climate change remained high on the geopolitical agenda. There were high expectations, and also differing views on the level of climate action which must be urgently taken across major emitting countries, which include historial emitters like US and Europe but also large economies like China and India. The big climate wins come with the agreement on tripling renewables targets by 2030 and putting a number to the need for climate finance for the first time in G20.
The UNFCCC's first ever Global Stocktake report yesterday reiterated that the window to meet the 1.5 degree C target is closing fast. The Delhi Declaration gives hope towards climate action from the world's major emitters responsible for 85% of emissions, however they missed agreeing on phasing out unabated fossil fuels.
TOP LINES
●        G20 inducted the African Union as a new permanent member, making it the G21.
●        Climate issues were interspersed across several key strands of the G20 discussions, including the bilaterals, and remained among key sticking points till the very end.
●        Overall, strong support for the Paris Agreement, and its targets including the 1.5 degree C warming limit was expressed
●        Moves the language on finance from billions to trillions. Makes an effort to shift the discourse from mitigation - only finance- to resilience and adaptation. For the first time in G20, recognises the quantum for climate finance - gives a figure of USD 5.8-5.9 tr needed by pre 2030 for NDC achievement, and USD 4TR annually for achieving Net Zero by 2050.
●        Encourages tripling of RE capacity by 2030, and voluntary doubling the rate of energy efficiency improvement by 2030.The agreement to triple renewable energy globally will be a huge boost to the clean energy sector if it can be matched with technology and finance.
●        Reiterating language from the last G20 on efforts to phase down coal just maintains the status quo. G20, home to 93% of global operating coal power plants and 88% of new proposed unabated coal power plants failed to agree to end new coal power plant construction.
●        Recognize the importance of sustainable biofuels in zero and low- emission development strategies, and note the setting up of a Global Biofuels Alliance.
●        No specific progress on phase down of coal but announced the establishing of a Green Hydrogen Innovation Centre steered by the International Solar Alliance (ISA) and also mentions derivatives like ammonia.
●        Although it recognises the need to reduce emissions by 43% by 2030 (relative to 2019 levels) and notes that global peaking must occur before 2025 (as prescribed by the IPCC's AR6 Synthesis Report), it mentions that this doesn't imply all countries must peak according to this timeline. This shows that while there is acknowledgement of climate science and policy inputs, principles of CBDR- RC remain alive when it comes to climate action.
●        Strong support expressed for MDB reforms, including Sustainable Finance Working group recommendations for scaling up blended finance and risk-sharing facilities and the enhanced role of MDBs in mobilising climate finance, especially through concessional resources.
●        Calls for an ambitious second replenishment process of the Green Climate Fund for its upcoming 2024-2027 programming period
●        Commitment to work toward facilitating access to multilateral climate funds and enhancing their leverage and ability to mobilize private capital.
●        A multi-year G20 Technical Assistance Action Plan (TAAP) to address data related barriers for climate investments
●        Global Biofuels Alliance was launched.
Reactions
More voices are being updated here as we receive them. 
On AU Membership
H.E William Ruto, President of Kenya
"We welcome AU, representing the fastest  growing continent, getting a seat in G20. This will give African interests and perspectives voice and visibility in this important body. With Africa poised to grow in the coming years, a seat will allow it to shape the decisions of G20 to ensure the continent's interests are advanced.  The outcome of the just concluded Africa Climate Summit including fundamental  reforms of  international financial institutions and multilateral development banks. is one thing that AU will advance."
Fadhel Kaboub, Associate Professor of Economics, Denison University, President, Global Institute for Sustainable Prosperity
"The AU now has an opportunity to use its G20 permanent seat to craft a win-win pathway for the entire world with an uncompromising demand to redesign the global trade, finance, and investment architecture. The Global South vision must align development and climate solutions in three core areas. 1. investments in food sovereignty (not just food security) and agroecology. 2. investments in renewable energy sovereignty. And 3. High-value added industrial policies to leverage the complementarity of resources (critical minerals), capabilities, and the economies of scale available to us in the Global South."
Indian voices
Dr. Ajay Mathur, Director General, International Solar Alliance ( ISA)
"The role played by the Indian G20 Presidency as a catalyst in shifting towards a human-centric view, recognizing the importance of resilience and reliability in global supply chains, and boosting multilateralism through the reform of global institutions has been remarkable. The Indian Presidency has led as the voice of Global South gathering inputs and ideas which will lead to solutions that are more easily deployable. The Presidency saw the largest-ever participation from African countries and has also pushed for the inclusion of the African Union as a permanent member of the G20.
Through the year, the International Solar Alliance has worked with the G20 Presidency towards fast tracking development, in the G-20 countries and globally, while also mitigating climate change by promoting solar utilization. This can be done in three ways. First, we need to build the knowledge and capacity of all countries to produce, transport and use low and zero carbon hydrogen. ISA has launched the Green Hydrogen Innovation Centre to enable this action. Second, we need to enable solar mini grids to provide universal energy access, especially where grid extension is too expensive. Guarantees help in crowding-in private sector investment into solar mini grids. We are proud to provide such a guarantee to our member countries in Africa. And the third action is to build entrepreneurs in these countries who can, with help, become the Amazons of tomorrow, supplying solar energy across countries and regions. We have recently identified, and are strengthening, 20 solar startups in Africa. We now look at the Asia & Pacific Region, and then the Latin America & Caribbean region.
The work is huge, and the time to accomplish it is short. We need new partnerships – between International Organizations and countries, and in between International Organizations as well, to accelerate solarization. The International Solar Alliance stands in support of the world to accelerate solar deployment for mitigating climate change."
Madhura Joshi, India Lead, E3G, Climate think-tank
"This G20 has seen many firsts, including the African Union's G20 membership, making the G20 more inclusive. We have seen a landmark decision to support tripling global renewable energy capacity, important for both development and climate goals; support for doubling the rate of energy efficiency, crucial for energy transitions; and for reforming multilateral banks, which can help unlock affordable finance for implementation.
Reiterating language from the last G20 on efforts to phase down coal just maintains the status quo. Increasing renewables must be backed by phasing down fossil fuels – both are indispensable for just transitions and a net-zero world. There's also far too much talk about expensive, unproven abatement technologies, which cannot be used as an excuse to delay action. We need stronger bolder action from leaders on both sides. All eyes now on COP28 – can the leaders deliver?"
Aarti Khosla, Director, Climate Trends
"While the G20 Leaders' Summit started amid a lot of geopolitical tensions, the Indian presidency has been able to keep sustainability across the issues discussed. Statements which have existed even before in the international fora,  have found a home in the Delhi declaration- The agreement to triple renewable energy globally could be a big boost to the clean energy sector. There is also a pledge to increase the capacity of multilateral development banks to lend more and utilise existing funds better, and a number agreed on the funds required for energy transition but falls short of a clear commitment to increased finance.
India set out to champion the voice of the global south at this G20, and the inclusion of the African Union making it G21, along with addressing debt restructuring as a major instrument to help vulnerable countries with the climate crisis, certainly is a positive step in that direction.
The language on accelerated phasedown of unabated coal is from last year. In the context of tripling renewable energy, it assumes even greater significance  because not calling for phase down of fossil fuels will mean stranded power assets in the near future.''
Vibhuti Garg, Director, South Asia,  Institute for Energy Economics and Financial Analysis, (IEEFA)
"The Leaders Declaration captures all the ingredients for restricting global temperatures to 1.5 degrees by highlighting the need for countries to develop pathways that are aligned with this goal. It also rightly focuses on building transition pathways, issue of just and equitable transition, circular economy, mission life etc.
While it also rightly says the need for tripling of renewable energy and access to low cost finance as the need for finance are estimated to the tune of USD4 trillion annually, the agreement is on facilitating and not committing to it. While the progress is good, a time commitment on both the renewable energy target and allocation of finance to energy and developing countries would have strengthened the commitment from nations on the issue of climate crisis which all the countries have been subjected to."
No further commitment on increasing the availability of finance to developing countries beyond USD100 billion. The net zero target needs much higher investment and if that commitment is not enhanced, it will be difficult for countries in the global south to achieve their climate goals.
Role of blended finance and MDBs need to be further fleshed out at the earliest and also issues on green taxonomy. Further private capital should also play a catalytic role. Again the language used is facilitated without any real time and money commitment.
On Tripling of Renewable Energy
Aditya Lolla, Asia Programme Lead, Ember
"This is a significant and surprising step forward by the G20. A tripling of global renewable capacity by 2030 is the biggest single action, that would keep 1.5 degrees within reach.
It creates two important precedents. First, it dramatically increases the odds that a global goal to triple renewables can be agreed at COP28 in December. Second, and most importantly, it creates a necessity for countries to go back and reassess their own plans to make sure they are consistent with a tripling of global renewables. Developed countries have a responsibility to help facilitate low-cost financing for renewable energy in emerging countries, so it was great to see the G20 also mention the importance of this. For Saudi Arabia and Russia to now lend support to renewables is very welcome. This is a game-changer for climate action. It is more possible by the day to imagine a clean, global energy system."
On Fossil Fuel Subsidy Reform
Shruti Sharma, Senior Policy Advisor, International Institute for Sustainable Development (IISD)
"The G20 leaders declaration has acknowledged the significance of addressing fossil fuel subsidies, but there has been no progress in the text since the Bali declaration. For the past 15 years, G20 leaders have consistently reiterated their commitment to reforming fossil fuel subsidies, but failed to deliver tangible progress in terms of transparency, timelines, and subsidies reduction. In 2022, G20 member nations allocated an unprecedented USD 1.4 trillion in public funds to support fossil fuels, underscoring the substantial financial resources still being allocated to this sector. The absence of a well-defined deadline for phasing out of fossil fuel subsidies—such as 2025 for developed countries and 2030 for emerging economies—reduces the accountability of the G20 in delivering its 2009 commitment to phase out this support."
On Global Biofuel Alliance
Devinder Sharma, Trade and Food Policy Analyst
"At a time when the UN has set a goal to achieve 'Zero Hunger' by 2030, to form a global biofuel alliance would be nothing short of a historic blunder. Political leadership must think of feeding humans first, automobiles can wait. I thought the G-20 would have learnt the critical lesson from the Bengal Famine. Food should never be diverted for activities which have nothing to do with domestic food security. Interestingly, we are getting to a stage when the food we produce will go to feed automobiles, and it will be left to companies to produce synthetic food in the labs for the human population."
Purva Jain, Energy Analyst, Institute for Energy Economics and Financial Analysis, (IEEFA)
"The formal launch of the Global Biofuels Alliance at the G20 Summit in Delhi reflects India's commitment to clean fuels. The Indian Presidency prioritised 'fuels of the future' and has delivered on it. Many countries and international organisations have already expressed interest to join it and this is a testament to the importance of biofuels for meeting Net Zero targets . While at the global level, the Indian government has initiated the Global Biofuel Alliance to provide a platform for exchange of knowledge and technologies, at the domestic level it is focussing on providing the right policy support to enable investments in the sector. Few such recent announcements include the roll out of E20 or 20% ethanol bended in gasoline from this year with a target to achieve E20 for entire petrol supply by 2025-26 or the budget announcement of setting up 500 new compressed biogas (CBG) plants under the GOBAR-dhan scheme. The Government also recently launched a unified portal for easy registration of biogas projects and to set up a one stop repository for investment and projects. Almost 1200 projects have already been registered on it."
Archana Chaudhary, Senior independent journalist
''Overall it's a good move if it helps nations cut reliance on expensive fuel imports. But is not exactly good news for some agricultural economies because it will push farmers to produce more crops that support ethanol and similar biofuels, diverting farm land away from pure food production, affecting food security.''