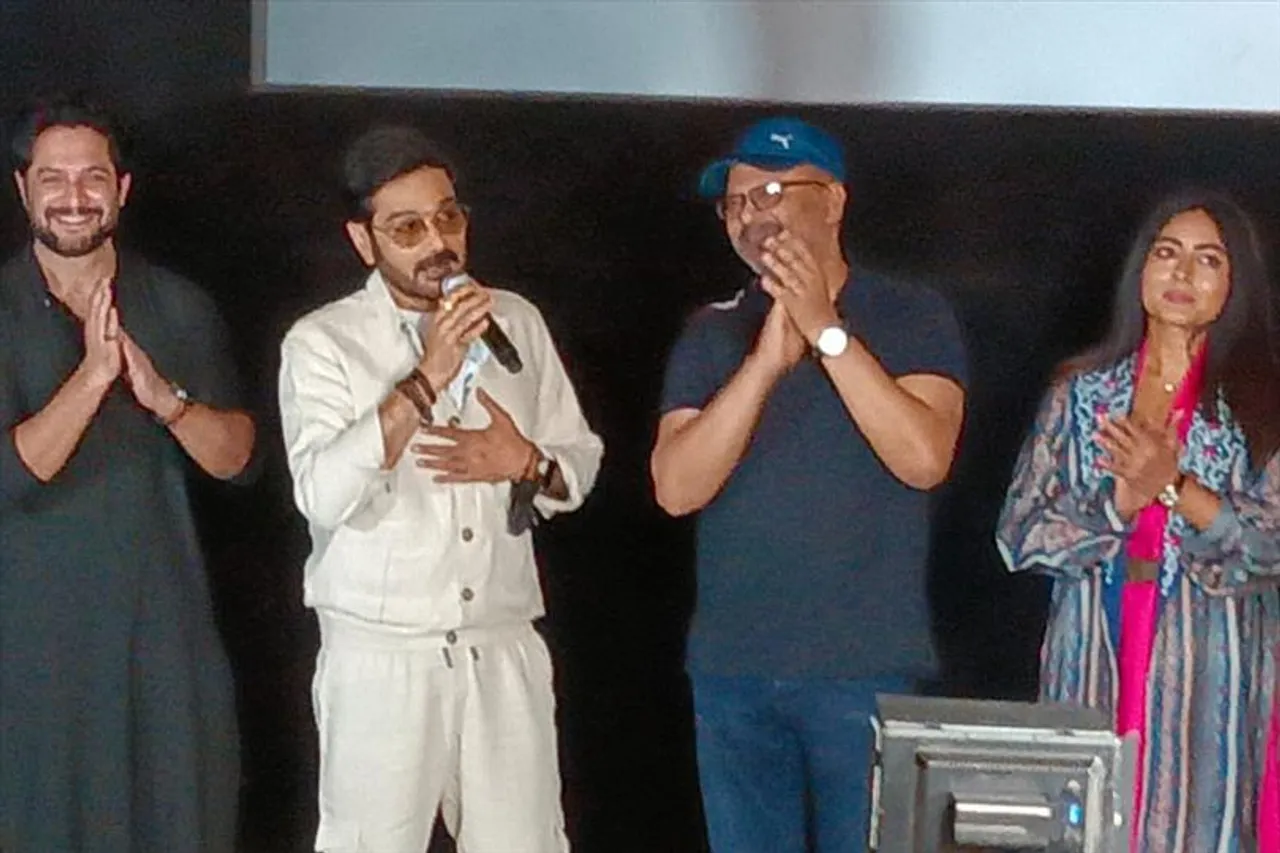 ​Kolkata: Friends Communication today launched the riveting trailer of their upcoming Poila Baisakh release, "Shesh Pata', in the presence of the lead star cast including Prosenjit Chatterjee, Gargee Roychowdhury, Vikram Chatterjee &Rayati Bhatacharya among others. 
​
​
Director, Atanu Ghosh, Music Composer, Deboiyoti Mishra and Producers, Firdausul Hasan of Friends Communication & Prabal Haldar were present for the occasion. "After "Mayurakshi', which received abundant love from the audience, we are once again bringing back Prosenjit Chatterjee, Gargee Roy Chowdhury & Atanu Ghosh together. Bumba Da has completely changed his body language and nuances to play a cranky old haggard character who is iritated with his ife but having his insecurities that are secretive.  


This story by Atanu Ghosh will surely appeal to the discerning audience. As we launch the trailer today, we can assure our audience about presenting them with a gripping fale of human life and its various facets layered with emotions and momentary bliss", said Mr Firdausal Hasan on behalf of Friends Communication. The trailer of the movie 'Shesh Pata' hovers around Balmiki, a 58 years old formerly well-known writer who now lives in obscurity stripped of dignity and respect. A year ago, a publishing house gave him an advance of forty thousand rupees to write about his wife, a budding actress, who was murdered brutally thirty years ago. Despite repeated requests, Balmiki has not provided a single page of the manuscript. To recover the writing, the publishing house engages Sounak, a young debt recovery agent. Balmiki tells Sounak who appointed Medha, a middle-aged woman to write down what Balmiki dictates. Assisting Balmiki with his writing is not an easy task.


 Moody, evasive and impulsive, he quickly drives Medha into a chaos. A unique journey awaits Balmiki, Medha, and Sounak as they pursue opposing and conflicting objectives. Deboiyoti Mishra has composed the songs for Shesh Pata which has Sujay Datta Ray as the Editor, Soumik Halder as the Cinematographer, Gautam Basu as the Art Director, Anindit Ray (CAS) & Adip Singh Manky as the Sound Designers, Sabarni Das as the Costume Designer and Somnath Kundu as the stylist who has designed and executed the unique makeup of Prosenjit Chatterjee as Balmiki.
Shesh Pata releases across leading multiplexes and single screens on 14th April, 2023.